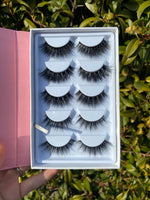 Lash Books
We are so happy to now offer you beautiful Angels lash books. You may choose a book with all one style or one with every hot style we have right now. All Lashes 100% mink Lashes made particularly for a flawless fluff and curve.
Shop Now
Reviews
I love the lash pack!! The lip gloss is good too,, it's a good thickness but not sticky which i love! Haven't put my lashes on yet but they are so pretty.

Megan
I got the watermelon Angel gloss and it smells so good & it's the perfect clear gloss i love it.

Clarissa
The gloss is EVERYTHING, cant wait to try the lashes

Myriah
The lash book is so convenient. i got one with all money baby lashes

Lexy
Best fluffy lashes i ever bought.

Adrianna
CEO & Founder
Hello Beautiful Angels, my Name is Angel Rae I am the creator of "Angel Cakes Lashes" I have always had a true passion for beauty. I love doing makeup on myself and on others as well, something about just making another person feel great and glam at the same time. I put my all into creating a eyelash line with tons of great styles that can hopefully fit any queens needs. Thanks to all you Angels for being here and growing with me! I hope that my products can give you the confidence to slay them fab looks you have in mind.✨ Thank you for being a supporter of my small business!🌷Now Mink away honey!!
NO Refunds!
Please allow 3-7 Business days for order packaging.